Tuesday, November 30, 2004
More thanks
This poem comes by way of
Philip
, who left it as a comment for
Jilbur
. It was new to me, and I loved its evocation of the everyday, the small, even perhaps the annoying as being cause for thanksgiving. Thank you, Philip.
Poem in Thanks

Lord Whoever, thank you for this air
I'm about to in- and exhale, this hutch
in the woods, the wood for fire,
the light-both lamp and the natural stuff
of leaf-back, fern, and wing.
For the piano, the shovel
for ashes, the moth-gnawed
blankets, the stone-cold water
stone-cold: thank you.
Thank you, Lord, coming for
to carry me here -- where I'll gnash
it out, Lord, where I'll calm
and work, Lord, thank you
for the goddamn birds singing!

- Thomas Lux
Sunday, November 28, 2004
Gobsmacked
When I was asked to design the second story addition for this old house, the builders told me that they didn't want the remodeled house to look like a new house. There was no way to make it look like an original Craftsman house; the zoning and building codes wouldn't allow for expansion in a way that would keep all of the proportions correct. However, their intent was to reuse as much of the existing period materials as possible, and use similar materials in the addition. The drawings that I did for the house (
here
and
here
) were a thoughtful attempt to blend the desired aesthetic with the city's requirements and limitations.
When I wrote about the progress on the house
last month
, I was concerned about the proportions, but felt that the house would look better once the new windows were in, and the exterior siding materials on. I hadn't been out to the site in six weeks, and a lot happened during that time. Sadly, many changes have been made from what I showed on the drawings, and to my mind - to my eye, to my aesthetic sense - they are not changes for the better. I'm quite surprised about some of them, as I respect the guys who are doing the construction, and think that their sensibilities about such things are generally quite good. Also, they both live in nice old houses, in neighborhoods full of beautiful Craftsman homes, and I'm surprised that they haven't absorbed some parts of the aesthetic almost by osmosis.
The stairs up to the front porch were supposed to be centered on the porch. For a number of reasons, the front door is not in the center of the porch, but the stairs were supposed to be. The builder has shifted the opening where the stairs will be so that it aligns with the front door; it's off-center with the porch. If the porch were wider, placing the stairs off-center might make room to one side of the porch for a seating area. This porch is smaller than a good usable front porch should be, and putting the stairs off-center just looks like a mistake.
The original plan was to keep all of the beautiful old windows, which had divided lights in the upper panes, and to order matching new windows for the addition. All of the old windows have now been removed, and replaced with new windows. None of the new windows have divided lights (mullions).
On the northeast face of the building (left photo above), the drawings showed a gable roof that extended from the edge of the porch roof all the way to across the recessed portion of the facade. I showed this piece of roof because the builder wanted it, but I felt that it did not help the look of the house. Instead of what was shown on the drawings, the builder has tacked on a small bit of gable roof that doesn't connect to the porch roof at all. This is even worse. There is no reason for this bit of roof to be here. It is an example of the worst sort of thoughtless "detailing" found on many a suburban McMansion, whose designer claims that it is a certain style of architecture solely on the basis of random bits of poorly copied trim stuck onto an otherwise generic box of a house. In addition, during the course of replacing the windows, it appears that the builder moved the pair of windows under this little bit of roof, so that they are no longer centered in the wall on which they are located.
On the southeast facade (right photo above), something strange has been done with the roofline. Above the second story triple windows, from the corner of the house almost all the way to where the new chimney will be, there is an odd horizontal piece of roof sticking out from the wall. It is not supposed to be there; that roof should stop where the two gables come together. I'm not sure why this problem with the roof trusses happened, but it should've been caught and corrected.
The green color that the stucco base has been painted is too bright. I realize this is a picky point, but this is not a traditional color for a house of the period that this house was supposed to be emulating. It should be more muted. And, in terms of making the house seem less tall, the color on the lowest portion of the house should be darker. I don't know what the plans are for the rest of the color scheme, but I'm worried.
I have more questions and quibbles regarding the construction, but they are pickier things that are even less amenable than the above to discussion without a slide projector (I'm showing my age) or Powerpoint show, a laser pointer, and several hours to talk about the fundamentals and fine points of Craftsman bungalow design. And that, my friends, will have to wait for another time.
Friday, November 26, 2004
Feline Friday 8: No place to nap
As is their wont, the cats spent a good part of Thanksgiving day napping. Sadly, when Paul and I might have wanted to retire to our bed for a bit of a post-dinner nap, this was the sight that greeted us. Sasha and Sergei were on Paul's side of the bed, entwined in a typical cat brothers napping pose. Lyra had her own space, up against my pillow, and was more deeply asleep than I usually see her.
We find it amusing, and heartwarming, that the cats' favorite places on the bed are right up against our pillows. If they selected these spots only when we had recently vacated them, I would chalk it up to their being prewarmed. However, these are the places that they often select whether or not we have recently occupied them. I assume that our pillows smell like us, and are therefore comforting.
Thursday, November 25, 2004
Giving thanks
While the past year has been perhaps the most difficult of my life, I have much for which to be thankful. Most importantly, my husband Paul is here with me. At the beginning of this year, we weren't sure that he would live to see another Thanksgiving (which is, for many reasons, his favorite holiday). My parents and Paul's father are here with us today, and I'm so grateful that we're able to be together.
I first read the following poems while I was in college. They are two that come most often to mind when I feel an upswelling of gratitude for all the ways in which I have been and continue to be blessed.
Pied Beauty

Glory be to God for dappled things,
For skies of couple-color as a brindled cow,
For rose-moles all in stipple upon trout that swim;
Fresh-firecoal chestnut-falls, finches' wings;
Landscape plotted and pieced, fold, fallow and plough,
And all trades, their gear and tackle and trim.
All things counter, original, spare, strange,
Whatever is fickle, freckled (who knows how?)
With swift, slow; sweet, sour; adazzle, dim.
He fathers-forth whose beauty is past change;
Praise him.

-Gerard Manley Hopkins


i thank You God for most this amazing
day: for the leaping greenly spirits of trees
and a blue true dream of sky; and for everything
which is natural which is infinite which is yes

(i who have died am alive again today,
and this is the sun's birthday; this is the birth
day of life and love and wings: and of the gay
great happening illimitably earth)

how should tasting touching hearing seeing
breathing any-lifted from the no
of all nothing-human merely being
doubt unimaginably You?

(now the ears of my ears awake and
now the eyes of my eyes are opened)

-e. e. cummings
Happy Thanksgiving to all of you.
Monday, November 22, 2004
Anything grows
One of the songs that my mother sang to me and Melanie when we were children began with these lines:
Asparagus, broccoli, cauliflower/ Dandelion greens and escarole/ Fennel and grapes and honeydew melon/ And iceberg lettuce for the salad bowl
. As you will have surmised, the song went on to name a vegetable, fruit or herb for each letter of the alphabet, with a few stretches, such as
Un-ions, sweet like strawberries
. I don't remember the crops for V and X, but I think they were similarly contrived. I haven't been able to find the lyrics for the song anywhere, and have no memory of hearing anyone other than my mother sing it. When I asked her about it, she said that she had learned the song for a high school production of
Plain and Fancy
, a musical set in a fictional Amish community in Pennysylvania. In fact, the last line of the song is
In Pennsylvania, anything grows
.
The Pacific Northwest has one of those climates - or more accurately, cluster of climates - in which it seems that almost anything grows. Fruits and berries that I used to think of as exotic delicacies grow in my neighbors' yards. For four years now, Paul and I have gotten most of our winter produce from
Whistling Train Farm
, a small family-owned farm in the Green River Valley southeast of Seattle. They have a CSA (community-supported agriculture) program in which we buy a "share" for the season; each week November through January we get a box full of beautiful, seasonal,
Certified Naturally Grown
vegetables and herbs. Since we have been getting this produce, I have eaten vegetables that I had never seen before (such as kohlrabi and rutabaga), and learned that I now relish some vegetables that, as a child, I detested.
(The winter vegetable that has reached most-favored status in our house is brussels sprouts. Yes, brussels sprouts. The first cold snaps or light frosts make them, and all of the greens, much sweeter than they are in the summer. If boiled until limp, as I remember them from my childhood, they would still be rendered inedible. But there's another way. Take a bunch of frost-sweeted brussels sprouts, slice them lengthwise into 1/4" slices. Saute them gently in a mixture of butter and olive oil until slightly browned on the edges. Add enough chicken or vegetable broth to barely cover, a grind or two of pepper, and some thyme. Turn the heat up fairly high, and cook until the broth is reduced almost to the consistency of a glaze. Squeeze on lemon juice to taste, and cook for another minute. Season to taste with salt and pepper. Paul and I have been known to have a dinner of just these brussels sprouts over brown rice. If the last time you ate brussels sprouts was when your mother could still punish you for not doing so, consider giving them another chance.)
The weekend before Thanksgiving, we receive a "double" box, equal to two weeks' produce. This provides lots of food for holiday cooking and, more importantly, gives the farmers a vacation. On Sunday, we went to pick up our produce from the farm's stall at the Ballard Farmers' Market. When I saw the bounty for the week, I thought of the song my mother used to sing. While it doesn't fit neatly into an alphabet song, here's what we brought home: cabbage (Napa), carrots, celery, garlic, kale, onions (cipollini), parsley (Italian), potatoes, pumpkin, radicchio, sage, spinach, sweet potatoes, turnips with greens, winter squash (festival, which is sweeter and smoother than acorn). Most of these vegetables have roles in a fairly traditional Thanksgiving dinner. I'll either make a place for the others, or save them for next week, when I won't want to see sweet potatoes or smell sage for a little while.
Friday, November 19, 2004
Feline Friday VII: Music(al instrument) and Cats
While I was in Oakland last week, I stayed with my friend Erin, who is both a techie (that's why she's in the Bay Area) and a musician (that's how I know her). Erin recently acquired a new piano. I wish I had been there to watch the piano movers bring it up her steep driveway, and the switchback stairs to her hillside house. Everyone in the house is enjoying the new piano, including Erin's cat Norton, who makes a guest appearance today. Look at the name of my blog. How could I resist these photos?
Wednesday, November 17, 2004
Falling
While I was in California last week, most of "fall" happened on our hill. When I left town last Wednesday, the local deciduous trees were covered in red and gold leaves. Arriving home on Saturday afternoon, I noticed that many of those leaves had fallen.

The two horse chestnuts across the street, enormous old trees that fill most of the view from my home office windows, had, in just a few days, dropped most of their large golden leaves at their feet, in the road, even onto the planting strip on our side of the street. These leaves dry up and turn brown almost immediately upon falling. If the weather is dry, they form the sort of lovely piles of which children's leaf-jumping memories are made. When wet, they rather quickly turn to mush. This year, it's looking like mush. The trees' branches now form a dark fractal pattern against the sky. This is the time of year when our house comes closest to having a mountain view. On clear days - and there are some, even during the rainiest Seattle winter - the snowy tops of the Olympics will be visible through the branches.

On Saturday, our two trees (alder? beech? white bark and heart-shaped leaves) had lost only half of their bright yellow leaves, which formed a solid carpet over the brick patio in our back yard. I had fantasies of raking over the weekend, but they remained only fantasies. Now that we've had some more rain, most of the leaves are down. The windy weather forecast for tomorrow should just about finish the job, as well as bringing down some of the smaller, more fragile branch ends. If I don't do it this weekend, raking will be added to the "keep my parents busy" list for Thanksgiving weekend.

The other aspect of fall that has truly arrived is falling temperatures, particularly at night. I love sleeping in a fairly cool house, under a toasty warm down comforter. One side effect of the cooler house is that the McKittens have increased their heat-seeking maneuvers. Yesterday morning, I awakened to find that Paul and all three cats were close beside or on top of me. Paul was sleeping against my back. Sasha and Sergei were head-to-tail next to me, on top of one of my arms. Lyra was hunkered down on my shoulder. Why, with all this warm coziness, did I wake before the alarm? Sergei's tail was twitching, Lyra was batting at it... and they were both hitting my face. My sleepy attempts to stop this annoyance without disturbing the cats failed; they all headed for the foot of the bed and beyond. Paul rolled over, but didn't wake. Twenty-five minutes 'til my alarm. I was already falling asleep again as I pulled the comforter up, and snuggled up to Paul.

Tuesday, November 16, 2004
Writing for work
As I mentioned, I have a big deadline coming up at work this Thursday. We are submitting drawings for a project to the building department for a building permit. This means that we have to prove that the project, as designed, complies with all of the applicable building codes. I've spent most of the past day writing up a code compliance list, and checking the drawings as I go. This is the sort of writing that I've been doing regularly for most of my professional life. Exciting it's not, but it's satisfying, especially as I check off major code items over which I've slaved. Sometimes, however, this process leads to a sudden, gut-wrenching realization that something in the project just doesn't work. Fortunately, there haven't been any of those yet. (Where's some wood around here?)
If you want to see what I write when I'm not going on about the McKittens, or other things perhaps of some general interest that I might post here, you can click below. Otherwise, move along. There will be something more to see around the end of the week.
- OK, I'll read anything once ->
Friday, November 12, 2004
Feline Friday 6: Cat Peripherals
Not content with merely sharing a desk with my computer, Sergei, Lyra and Sasha have each adopted a part of my computer as their very own. The ever curious Sergei wants to know what I'm writing about him and his furry friends (note that Feline Friday V is on the monitor). Lyra, the traditionalist, is content with a mouse. Sasha likes to watch the paper come out of the printer, and bats at the inkjet carriage as it moves back and forth in the machine.
Thursday, November 11, 2004
Having a life... or not
Four days without posting is not what I had planned for this week. I was going to write about Sunday's baby shower for a friend, and Monday's really strange dreams, and Tuesday's writing class. I also had some ideas for posts about the political climate that I've been contemplating for the past week. (I've gotten over the worst of my post-election depression, and am working on healthy, productive acceptance... which will involve neither moving to Canada nor just waiting around for the next four years to pass.) Instead of writing blog posts, I went to the baby shower, and did homework for my writing class, and oh, yeah, I have a job, too, with a big deadline coming up in a week.

For the past couple of days, I've been in Oakland, CA, where the main office of my architectural firm is located. It has been great getting in some face time with the project team with which I'm working. Seeing the "we're never going to get this finished on time" look on one's coworkers faces, when that is what one has been feeling, is, if nothing else, oddly reassuring. Panic, like misery, loves company. Tomorrow we will not be able to work on our project, as we are having our yearly office retreat. The twenty of us will sit in a room together all day. We will have "state of the office" addresses from the several partners, and talk about plans, goal, etc. for the upcoming year. A management consultant of some sort is coming to inspire us, and lead us in many verses of Kum-bah-yah. I hope there will be lots of coffee.



Saturday, November 06, 2004
Dance made audible
Last night I had a peak musical experience, the sort that makes me feel deeply connected to the people around me. I was making music with friends, playing for dancing.
According to choreographer George Balanchine, "Dance is music made visible." In formally choreographed dance performance pieces, the choreographer chooses music, and creates a dance that expresses his or her sense of the music. A talented choreographer can help you to "see" things about the music that you might never have heard on your own. A dancer's syncopated steps help you to notice a subtle rhythm underlying a melodic line. A rush of dancers leaping across the stage highlights a powerful surge in the score. However, a highly choreographed dance piece is one interpretation of a piece of music that is also often highly arranged, whether a symphonic piece in which the composer's intent is indicated, or in much modern dance, a particular recording of the music.
The dancing for which I play is traditional English folk dancing. There are several variants of this, which can be generally divided into social dance (English country dancing) and display dance (Morris and sword dancing). These are old dance forms; Shakespeare wrote about Morris dancing, and some of the English country dances that are danced today were published in the 1600s and 1700s.
(English country dancing is not terribly complicated. If you can walk, and perhaps skip a little, can tell the difference between left and right, and are willing to take hands with other people to move in simple patterns, you have all the skills you need. Have you have seen a recent movie adaptation of a Jane Austen book? Emma, Sense and Sensibility, and Pride and Prejudice all have featured English country dancing.)
Needless to say, when these dances originated, they were danced to live music. There was no alternative. And, while each "dance" – a particular set of figures arranged in a particular order - had its own particular tune, the written music that was provided was generally only a melody line. Musicians of the period were expected to understand how to add chords, a bass line, a harmony part.
Likewise, modern English country dance musicians generally have only a basic tune, or melody line, as a starting point. While the tempo that the music is to be played is dictated to some degree by the figures and character of the dance, everything else is left to the discretion/whim/madness of the musicians. Most musicians I know are also dancers, and understand how it feels to move to this music. With musicians who understand the dance, are comfortable improvising, and listen well to each other, the results can be music that is quite varied and interesting. This can create two different feedback loops: one among the musicians, the other between the musicians and the dancers. In the first, one musician starts the tune in a particular style – bluesy, romantic, delicate, driving – and the other musicians pick up on that, adding to and reinforcing the musical idea, before suggesting another. As the musicians vary the way they play the tune, they are suggesting to the dancers a different interpretation of the dance. Dancers who are sensitive to the music will respond by changing the way that they move; they will slink to the blues, step lightly to a delicate sound, swirl to lush romantic playing… and watching the dancers move will provide the musicians with new ideas for varying the tune. In this way, not only is the dance music made visible; the music is dance made audible. And that, for a dance musician, is sheer bliss.
Last night, I played for the local English Country Dance. There were three of us playing together for the evening: my friends Julie on piano and Betsy on flute, and me on violin. While I have played for dancing with both of these very talented women quite a few times since moving to Seattle, we are not a "band" – we don't play together as a group regularly, we don't rehearse for our gigs. In fact, I don't think that I have played with Julie and Betsy together before last night. But it was one of those nights when everything clicked. The first fifteen minutes or so, we were getting warmed up, settling in, syncing up. And then, there was a moment when we the magic happened. We began to pick up on each other's musical ideas and moods almost instantly. We were communicating via our instruments; supporting and reinforcing each other's experimentation. And the dancers felt it, too; the usual dance-floor small talk and shuffling of feet stopped, and there was just the music and quiet, rhythmic footsteps on the floor.
When that dance ended, I turned to look at Betsy and Julie. We stared at each other. We were all grinning. I had goosebumps. Then Betsy, who was seated in the middle, reached out her hands to Julie and me, and we grabbed them. Making that physical connection released some sort of energy; we all shivered. Oh, and the dancers were clapping and whistling and stomping in a way that would not have fit at all in a Jane Austen movie, but felt really good in that little meeting house hall.
I would not have guessed that musical magic would've happened last night. Before the dance, Betsy, Julie and I had chatted about how each of us was tired. We were saddened / disturbed / angered by the events of the week. We had a lot on our minds. And despite all that, something mysterious and wonderful happened when we played music together. We, and the people around us, were refreshed, enlivened, thrilled by something that was larger than us. Exactly what that is, I have no words for.
Friday, November 05, 2004
Feline Friday V: Desk Job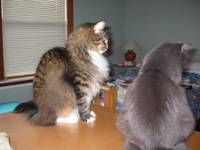 I recently cleared off the end of my desk, and the cats have taken this as an invitation to hang out there, which in fact it was. It's quite nice, while sitting at the computer, to reach over and stroke a soft, napping cat. This arrangement often leads to a cat walking across my keyboard, but that is something I'm more than willing to live with.
This morning there was more feline activity than I usually see on my desk. Did they somehow know that I was at a loss about what to post for this week's FF? This first shot was taken from my chair; when I stood up to photograph Sasha and Lyra from the other side, Sergei became interested. He doesn't like to be left out.
- More cats ->
Wednesday, November 03, 2004
Denial, Anger, Bargaining, Depression...
I seem to have progressed through Kubler-Ross's first three stages of grief sometime during election day (although I don't remember bargaining - perhaps I dreamed it last night), and woke up this morning smack dab in the middle of depression. I am feeling heartbroken today. I had not ever imagined that the results of an election might affect me in quite this way.
After the first presidential debate, Paul turned to me and asked, "Vancouver or Victoria?" I've liked Canada since my first visit to Montreal for Expo '67. (I was six, and thought the red-clad Mounties on their beautiful horses were really cool.) Today the idea of living there has even more appeal than it did just two days ago. Last night, I even looked at the
Canadian Immigration
website when I could no longer stomach watching the election returns. I feel like I've run out of "fight" for now, so "flight" seems particularly appealing.
We interrupt this glum post to bring you this message from the Department of Laughing-to-keep-from-Crying:
For those of you who are single, and would like to move to Canada, take a look at Marry an American. According to this website, there are single Canadians, of both sexes and various sexual orientations, who are willing to marry you to help you get into Canada. Their motto: "No good American will be left behind!"

In a similar vein, Matthew Yglesias has posted a revisionist map that has been traveling around the Internet(s). It's for those who might have been puzzling over how to combine the "blue" states into their own country, but were concerned about that big gap between the "left" coast and all those liberal Yankee states. Whoever did this has it all figured out.
We now return you to the moaning already in progress.
I know that sometime after depression comes acceptance. I'm not sure yet what that might look like, or how long it will take me to get there.
Monday, November 01, 2004
It was a dark and steamy night...
... in Houston, and it was Halloween. So, despite the heat, all sorts of small creatures - beautiful and gruesome, scary and sweet - were out and about, gathering candy from appropriately admiring and/or frightened adults. Along with the candy came blasts of chilled air from doorways. Parents in t-shirts and shorts (and at least one aunt and uncle in inappropriately Seattleish clothing) watched from the sidewalk, and offered needed encouragement. "Knock on the door... good... now say Trick or... what do you say now, sweetheart?... watch those steps..."
Our nephews were honorary McKittens (after a fashion) for the evening, Max a lion and Reed a tiger. Sadly, their fleecy costumes were better suited for traditional, autumnal Halloween weather than for last night's sauna. Reed threw his headwear on the ground within minutes of going outside, but Max kept his on through the first block of houses.
Also trick-or-treating with us were the three children of some friends. Their twins, a girl and a boy, are a couple of months younger than Max, and their daughter is a five-year-old, blonde, blue-eyed beauty. Max has thing about blondes. And a thing about "older women". Put the two together, and we're talking full out adoration, as is obvious in the photo below. Luckily for Max, this pretty little princess likes cats... even fleecy ones with damp, slightly grubby paws.