Friday, May 20, 2005
Feline Friday: Wanted
Be on the lookout for Slasher McKitten, evil twin of Sasha 'Bear' McKitten.
Last seen on Thursday, May 19, during the Crating of the McKittens for the annual Veterinary Adventure.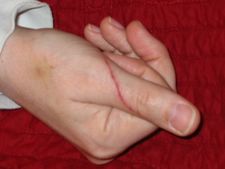 When Paul mistakenly picked up Slasher, and attempted to place him in Sasha's cat carrier, Slasher lived up to his name. Paul received several scratches, including this one. Fortunately, none were life-threatening, and Paul is convalescing comfortably. During the course of the altercation, Slasher made his escape. His whereabouts are unknown.
A short while later, Sasha was located, hiding in a closet. Though distressed by his evil twin's outburst, the gentle, timid Sasha was coaxed into his cat carrier, and delivered to the tender care of the vet.
The McKitten family is looking forward to a quiet weekend at home.
----------------------------------------------------------------------------
Friday Ark
is up! And
Carnival of the Cats
this week is
at the home of its founder
.