Monday, May 16, 2005
A best friend to animals in need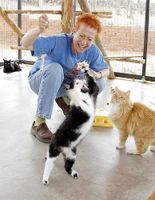 Our cats have a
wonderful catsitter
, and Paul and I a fine friend, in a slight, red-headed woman named Lynne Madrigal. Whether you call it luck, or serendipity, or the hand of the Almighty, finding Lynne and getting to know her has been one of the truly good things about living in Seattle.
Recently, Lynne and a friend went on "vacation" at the
Best Friends Animal Society
, an animal sanctuary in the Canyon Country of Utah. I had not heard of Best Friends before, and am moved by the work that they do to provide a home for animals in need. And I am once again impressed with Lynne's love for and devotion to cats - not just her own beloved cats, or her clients (that would be
our cats
, not us), but all cats.
Lynne wrote an
article
, published today in the
Seattle Times
, about her time at Best Friends:
KANAB, Utah — Red rock. Blue sky. Cats and dogs, horses and bunnies — creatures once homeless, abused, injured or abandoned — bask in the splendor of Utah's Canyon Country, the home of Best Friends Animal Sanctuary.

Such is the sight that greets me this spring Sunday (my birthday, in fact) the first of four days my friend Claudia Dannettell and I will spend volunteering at Best Friends. We are among more than 4,000 animal lovers who come here each year from all over the world, using precious vacation time doing what we love: petting, brushing and tending to animals. The sanctuary is home to 1,500 dogs, cats, horses, burros, birds, farm and wild animals, so there's no shortage of critters needing our attention.

Occupying 33,000 acres in Angel Canyon, the sanctuary is operated by Best Friends Animal Society, an organization that works with shelters, rescue groups and about 250,000 members throughout the country, and sometimes beyond, to further its mission: No more homeless pets.
Later in the article, Lynne describes a day in the life of a feline-loving volunteer:
The next morning, I report for duty to the cat headquarters. I am assigned to Benton's House, another building for ailing cats, those with kidney disease, skin cancer and other illnesses.

There's hard work to be done here: Floors and tables, windowsills and colorful cubbyholes ascending the walls must be thoroughly cleaned and disinfected. The vast outside enclosure needs sweeping.

During break, I meet two other volunteers: Mary and Karen, both from Pittsburgh, both spending part of their vacations as well. "I want to be a part of helping the animals," Karen says. "This place is an inspiration."

After lunch, I ask at headquarters which cats are least visited by guests and volunteers. They send me to Mondrian's, home of the feral and semi-feral population, intermixed with some "friendlies."

Many of the dozens of cats there are afraid to approach, but others cautiously inch toward me, lured by the brush in my hand. Photos of every cat are posted on the wall, so I am able to address each by name as I groom and cuddle more than 20 needy cats.

Outside, a group of caretaker employees gathers on a break, telling us how happy they are that we are there.

"Volunteers are our bread and butter," says staffer Cathie Toops. Brooke Hodges chimes in, "We don't always have time for the loving and brushing part that volunteers provide."

Later, I visit Jill's Diner, where there are rooms for elderly and diabetic cats, and cats with FIV. At every turn, angel-faced beauties clamor for lap space. I spend the rest of the day here.
Read the rest of Lynne's article
here
.