Thursday, December 30, 2004
The second tale of Christmas: Pork Loin Roast
While I've never had any interest in becoming a Junior Leaguer, I must admit that the women of the Junior League in my hometown of Houston know how to put together a mighty fine cookbook.
Stop and Smell the Rosemary
is a favorite cookbook in my family; every woman in the clan has a copy, and uses it regularly. Last week, when my mother was pondering what to prepare for Christmas dinner, we went to this book. Mom didn't want to roast a turkey ("we had turkey at Thanksgiving") or a beef tenderloin ("you wouldn't believe how much they're charging per pound!"), so we looked through the pork section, and found this recipe. It is transcribed as written, with photo illustration and annotation added.
Apricot and Pecan-Stuffed Pork Loin

1 1/2 cups dried apricots
1/2 cup pecans
1 clove garlic
1/2 teaspoon salt
1/4 teaspoon freshly ground pepper
4 tablespoons chopped fresh thyme
4 tablespoons molasses
4 tablespoons peanut or vegetable oil
1 boneless pork loin roast (5 pounds), halved
1 cup bourbon
1 cup chicken broth
1/4 cup heavy whipping cream
1/4 teaspoon salt

Coarsely chop apricots, pecans, garlic, salt and pepper in a food processor. Add 2 tablespoons thyme, 1 tablespoon molasses, and two tablespoons oil. Process until mixture in finely chopped, but not smooth.
Make a lengthwise cut down the center of each half roast, cutting to, but not through, the bottom. Starting at the center slice, slice horizontally toward one side, stopping 1/2" from the edge. Repeat on other side. Flatten each half to a 1/2" thickness using a meat mallet or rolling pin. Spread apricot mixture evenly over pork.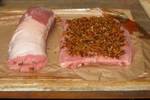 I was surprised that there was more than one way to interpret the instructions for cutting the roast. (My mother does not think spatially.) I got the job of cutting and pounding. After 15 minutes of pounding with a mallet, I had perfected a swing that would drive large nails; the roast was still over 1/2" thick. Good enough.
Roll each loin half, jelly-roll fashion, starting with long side. Secure with string. Place both rolls, seam side down, in a shallow roasting pan. Brush with remaining 2 tablespoons oil and sprinkle with remaining thyme. Preheat oven to 350 degrees.
As I had not pounded the roasts down to 1/2" thick, they did not look quite like jelly rolls. My mother attempted to tie one using a single long piece of twine, crisscrossing it over and under. The whole thing fell apart, and had to be rerolled. (Did I mention the spatial thing?) Then we tied each of them with several small loops of twine.
Bring bourbon, broth and remaining 3 tablespoons molasses to a boil in a large saucepan. Remove from heat. Carefully ignite the bourbon mixture with a long match. When flames die, pour over roasts.
Bake at 350 degrees for 1 to 1 1/2 hours, or until meat thermometer inserted in thickest portion registers 160 degrees. Remove pork from pan, reserve drippings, and keep warm.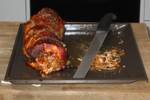 The bourbon burned for so long that we covered the pan to put out the flames. If you roast 'til the meat thermometer reads 160, you'll have dry, overdone pork. The internal temperature of a roast will rise by ~10 degrees
after
coming out of the oven. I like pork cooked to 155 degrees, so I take roasts out at 145 degrees.
Pour reserved drippings in a small saucepan. Add cream and salt. Cook over medium-high heat, stirring constantly, until slightly thickened. Slice pork and serve with sauce.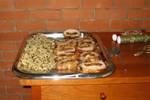 Here is the sliced pork roast, with a wild rice and mushroom pilaf. The roast looked beautiful when cut, with little bits of apricot adding color to the swirl of stuffing. The sauce was a lovely, deep golden brown, and smelled wonderful. And, most importantly, it was delicious.