Thursday, March 17, 2005
Not just skyscrapers and suburbs
While my hometown of Houston may be best known architecturally for its world-class skyscrapers and miles of sprawling suburbs, there are, tucked away in some of its oldest neighborhoods, works of personal architecture that rival any skyscraper for creativity and make a mockery of the banal blandness of the modern suburban house.
Some people might take a NIMBYish attitude to these idiosyncratic artistic expressions, but in Texas, where the rights of the property owner are paramount, and particularly in Houston, the land that zoning forgot, there's not much a neighbor could do to stop the homeowner who's so inclined from, let's say, covering his entire house in beer cans. And that is just what Houstonian John Milkovisch did to this modest little bungalow in Houston's West End.
The
Orange Show Center for Visionary Art's
history
of the Beer Can House describes the evolution of Milkovisch's house:
In the late 60's John's interest was shifting away from upholstery and toward creating what's now referred to as the "Beer Can House" at 222 Malone St. John started his project in 1968 inlaying thousands of marbles, rocks, brass figures and metal pieces in concrete blocks and redwood, all of which were used to make patios, fences, flower boxes, etc. The result was a yard with no grass. The entire front and back was covered with cement. When asked why he did it, John simply answered, "I got sick of mowing the grass." After the yard was completely covered, he shifted his attention to the aluminum can. He used various parts of aluminum cans (tops, bottoms, sides, and tabs) to make curtains, mobiles, fences, sculptures, windmills, and wind chimes. He wired the bottoms into long chains and dangled them from the eaves. Along the sides of the house, he alternated strands of pull-tabs, bottoms, and flat screens made from the labels. In other places, he made the tops of the cans spin inside an outer ring of narrow metal and looped them through the trees in the backyard.
The result was quirky and dazzling. Milkovisch lived in and continued to tinker with his house until his death in 1988. He apparently enjoyed people's reactions to the place, saying, "It tickles me to watch people screech to a halt. They get embarrassed. Sometimes they drive around the block a couple of times. Later they come back with a carload of friends." His wife Mary continued to live in the house for years after his death; the house was sold to the Orange Show Foundation, predecessor of the
Orange Show Center for Visionary Art
, shortly before her death in 2002.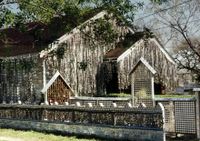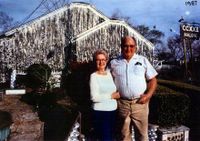 In an
article
today, the
Houston Chronicle
announced that the
Houston Endowment
has given a $125,000 grant to help in restoration of the Beer Can House.
Efforts to restore Milkovisch's Beer Can House, which has suffered years of gradual decline, have moved into high gear with a $125,000 Houston Endowment grant to the Orange Show Center for Visionary Art, which acquired the house in November 2001. "The Beer Can House represents the sort of idiosyncratic individualism that Houstonians and Texans pride themselves on," Emily Todd, the endowment's grant officer, said Wednesday.

Orange Show Executive Director Susanne Theis said repair and restoration of the house at 222 Malone west of downtown should be complete by late next year. The house then will be open for tours.

The house's evolution
Theis said Orange Show staff is searching for an architect to trace the house's artistic evolution — the first step in restoration. Once it is determined which version of the house represented its artistic peak, restorers will begin cleaning or replacing the damaged components.

"Some things have just been lost over time," Theis said, noting that in his lifetime Milkovisch made numerous changes as various elements of his creation were damaged by storms. Among features no longer present are a graceful arch of beer-can tops and bottoms across the driveway and a curtain of pop tops that once shaded the building's south side.

Additionally, steel portions of the structure have rusted, aluminum parts have oxidized, and parts of the residence's concrete-covered yard, studded with thousands of marbles, have crumbled. Theis said tests of soil and concrete will be scheduled to determine the overall stability of the site. The house generally is in good repair, she said.

Reproducing old cans
Much of the restoration will be performed by volunteers, although final installation of components likely will be handled by professional carpenters. In some cases, Theis said, brewers might be asked to reproduce the discontinued cans Milkovisch used in his project. Already, can collectors have donated vintage cans to the effort.

Changes in the neighborhood also have contributed to the site's degradation, Theis said. Once a working-class enclave of single-family homes, the neighborhood in recent years has experienced rampant redevelopment. The Beer Can House now is flanked by multistory townhomes, one of which was erected about three feet from the property line.

With new development blocking sunlight, a once-sparkling fence studded with colored glass marbles has gone dull. Theis said plans call for installation of lighting to again illuminate the fence. Plans also call for a vine-covered trellis at the building's rear to suggest the greenery of trees that have been removed as adjoining property was developed.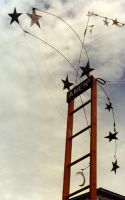 The Beer Can House.
The Orange Show.
The Art Car Festival.
The Artery.
All these quirky, idiosyncratic, personal works of livable, drivable and performance art make Houston a much more interesting place than it otherwise would be. Long may they stand.